Recently, State Power Investment Group Corporation (SPIC) released the evaluation results of PV module supplier qualification, and Apex Solar was selected as a qualified supplier of monocrystalline PV module product unit with high quality products and services.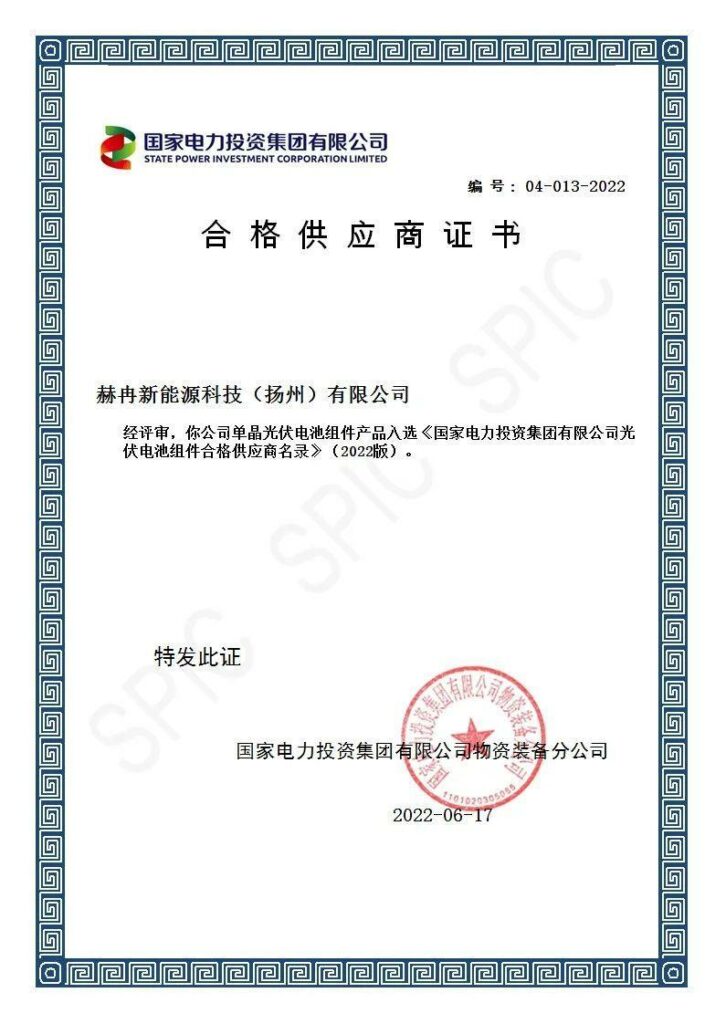 The evaluation of the qualification of the suppliers of photovoltaic modules of the State Power Investment Corporation will begin in January 2022, in accordance with the principle of "openness, fairness and merit", and the performance, enterprise scale, production capacity and other indicators of the enterprises involved in a comprehensive assessment, the merit assessment of the suppliers will be entered into the "State Power Investment Corporation Qualified Supplier List", as the bidding and procurement qualification evaluation results.
Apex Solar's monocrystalline PV modules have been certified by TUV, IEC, COC, CE, CQC and other domestic and international PV authorities, and have passed authoritative tests such as PID, salt spray test, sand and dust test, packaging and transportation and dynamic load test, mechanical load tightening test and ammonia test.
As a holding subsidiary of Jiangsu Apex Solar Group Co., Ltd, a new PV module company, Apex Solar Energy adheres to the corporate responsibility of "Let everyone enjoy the wealth of sunshine" and keeps innovating technology to meet the needs of various customers. Apex Solar Energy is committed to "making sunlight available to everyone". We aim to reduce costs and become a highly efficient and cost-effective provider of integrated PV products and system solutions.
The inclusion in the list is a full affirmation of SPIC's comprehensive strength. In the future, Apex Solar will continue to increase its technological innovation in the field of photovoltaics and work with more partners to contribute to the national green development strategy.