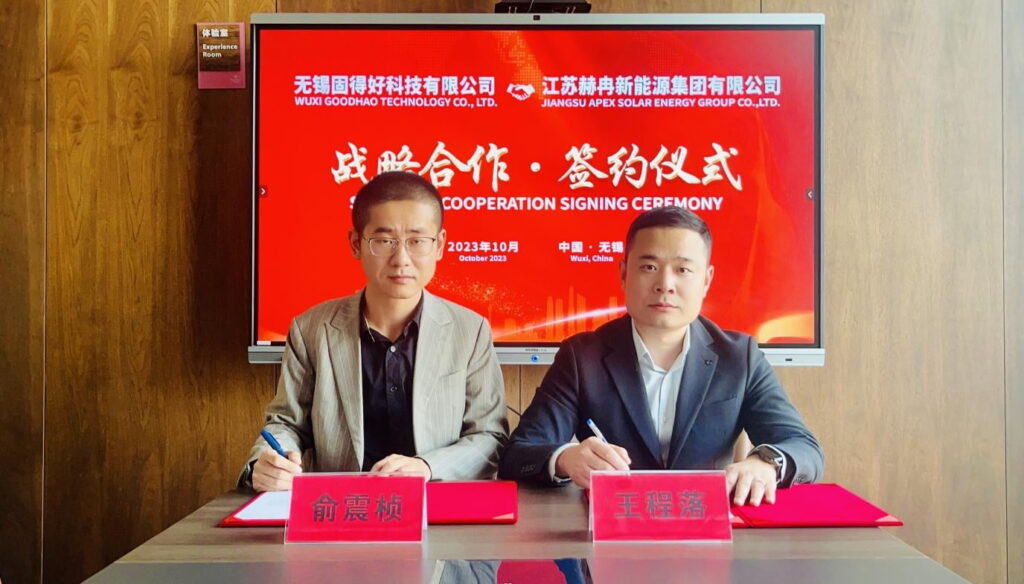 Jiangsu Apex, one of China's leading manufacturers of solar panels and photovoltaic technology, has entered into a strategic cooperation agreement with Wuxi Goodhao. This important agreement aims to secure the supply of solar panels and photovoltaic technology for Wuxi Goodhao.
The signing ceremony was jointly attended by Wang Chengluo, Chairman of Wuxi Goodhao, and Yu Zhenzhen, Ceo of Jiangsu Apex Solar Group .
"I am delighted that we have established cooperation with Jiangsu Apex Solar, a top international player in the energy sector. The company has a strong manufacturing technology base in China, producing extremely high quality components for the energy industry in China and abroad. Jiangsu Apex Solar also has extensive experience in distributing technology in the European region as well, which is a significant advantage for Wuxi Goodhao's acquisition targets.

I look forward to developing new clean energy projects together, especially in the European region,"

Wang Chengluo, President of Wuxi Goodhao.
"Our company is honored to establish a long-term cooperation with Wuxi Goodhao and participate in the development of international energy projects together. Our common goal is to provide innovative photovoltaic technology to international markets and jointly develop quality clean energy projects.

Through this strategic cooperation, Apex Solar gains a strong partner for overseas markets and strengthens its global network. Our intention is to further deepen the cooperation in the future and open it up to new projects such as energy storage, new urban energy and innovative photovoltaic manufacturing,"

Yu Zhenzhen, CEO of Jiangsu Apex Solar.
Wuxi Goodhao is primarily engaged in domestic and foreign government investment in energy infrastructure and acquisition of energy solutions for overseas markets, with a particular focus on the European region.
The Company is also engaged in the investment and sale of new energy vehicles, the manufacture and sale of photovoltaic equipment, the investment and sale of wind power plants, photovoltaic power plants, energy storage end-use plants, the investment and sale of semiconductors, biomedicine, etc.
Jiangsu Apex
Jiangsu Apex Solar is a leading PV module manufacturer in China with a full industrial chain. Up to now, the company has four manufacturing bases of silicon wafers, battery wafers and photovoltaic modules, and has a complete EPC construction qualification and team. Up to now, the company employs more than 1000 people, the annual output value of more than 5 billion, the products are exported to more than 80 countries in the world, in Germany, Romania, Pakistan, the United States, Brazil and other important markets have their own branches and warehouses.
Apex Solar is paying close attention to the development of the European market and has a strong desire to establish a localized production base in Europe to contribute to the development of new energy in Europe